Fix Your Pricing Masterclass
Figure out smart, strategic freelance pricing that makes sense for you.
Fix Your Pricing Masterclass has a simple aim: to help you make more money in less time with new, carefully considered prices.
Get free access
Freelance pricing is weird. Different projects and types of work have no set prices.
Like, what does a blog post cost? $5 or $500 or $5,000. And what about a logo? Anywhere from $10 to $100,000. The price depends on perceived value, and perceived value goes up with perceived expertise. 
In 1986, Steve Jobs paid Paul Rand $100,000 to create a visual identity for NeXT. Crazy, right? 
Price isn't always the deciding factor. The best freelance clients are more interested in the value of the outcome. So our prices need to send the right message: "I'm confident and competent. You can trust my professionalism. You'll see the value."
Are your prices sending the right message? Do you ever wish that you could charge your freelance clients more?
Pricing is a maze many freelancers get lost in. Let's strap on a jetpack and get you out of there.
The Masterclass will show you how to charge more, more confidently.
It is free to attend live Wednesday, Nov. 17, to Thursday, Nov. 18, 2021.
You will go through the right step-by-step process in the very first session.
18 speakers will help you turn your new prices into a stronger freelance business. Check out the full lineup below.
Get free access
You'll learn from the best.
The speakers will show you how to get better results with less effort.
Austin L. Church
Math, Not Magic – Use the Right Step-by-Step Process for Calculating Your Key Numbers and Setting Your Rates.
Sarah Masci
5x Your Income With a VIP Day Pricing Mode
Laura Pennington Briggs
Retainers 101 for Freelancers: How to Get Clients and Price Retainer Packages
Jay Clouse
Name Your Price & Earn More Money As a Freelancer
Sarah Greesonbach
Treating Clients So Well They Take You with Them & Pricing Is a Non-Issue
Paul Millerd
Thinking, Acting, and Charging Like a Consultant
Tyler Hays
4 Steps to a Ballin' Budget and Financial Wellness
Gina Horkey
Pivoting and Growing by Adding Services
Austin Saylor
Six-Figure Case Study
Angel Marie
Why Every Freelancer Should Build an Audience
Laura Elizabeth
How to Diversify Your Freelance Income With Products
Brennan Dunn
How to Get Paid to Vet New Prospects & Create Their Proposals
Melanie Padgett Powers
The Benefits and Drawbacks of Niching Down
Hailey Thomas
The $20,000 Invitation: A Case Study on Thriving-based Pricing
Philip Morgan
Formulas for Specialization that Tend to Work Well
Nick True
Mastering Your Personal and Business Finances
Kat Elizabeth
How to Stand Out and Attract Dream Clients (Even in a Crowded Niche!)
Preston Lee
Doing The Freelance Work That Actually Moves the Needle
Austin L. Church
Let's Fix Your Freelance Prices
Jay Sennett
Let's Fix Your Email Strategy & Welcome Sequence
Austin L. Church
Let's Brainstorm Your Juicy Offers
Fix Your Pricing Masterclass will help you avoid the pricing mistakes freelancers make.
You're not going to simply double the hourly rate from your last job or plug numbers into one of those sketchy online rate calculators. You're also not going to blindly copy your freelance friends or waste hours searching for answers in the Google swamp.
Instead, some of the best freelancers around will tell you exactly what they do.
Regular Pass
The budget-friendly option for those just starting on your freelance and those who love the energy of live events
Free
Get free access
What's included
Access to live Wed. & Thu. talks
Access to live chat
1 entry into the $2,500 Giveaway
All Access Pass
The premium option for those who want recordings for reference later and access to live Friday workshops
$99.00
Get all access
What's included
Access to live Wed. & Thu. talks
Access to live chat
Download - all Masterclass videos
Access to live Friday workshops
5 entries into the $2,500 Giveaway
About Your Host
Austin L. Church
Fix Your Pricing Masterclass Host
Founder of Freelance Cake, Brand Strategist at Balernum, Author, Speaker, Pro Dad
Austin finished his M.A. in Literature in 2008, got a job at a marketing agency, and started freelancing in April 2009. He has consistently earned six figures as a full-time freelancer while pursuing other ventures—everything from iOS apps and a tech startup to a children's book and entrepreneur retreats. 
These days, Austin splits his time between brand strategy projects for e-commerce companies and business coaching for freelance creatives. He loves showing freelancers the process for scaling up their most joyful, profitable work.
Join Austin for the Masterclass
What People Are Saying
"Austin's experience and coaching around negotiation were incredibly beneficial. He was key in helping me land one 3-month retainer worth $25,500 and another 12-month retainer worth $165,000."

- Jacob Milner , Nercher Consulting and Nercher 360
"Armed with confidence from your advice about raising my rates, I did just that. Doubled my rate. The client didn't flinch. Major, major thanks"

- Kieya K.
"I took Austin's advice on productizing my services and signed my biggest client retainer to date. I now have almost more freelance work than I can handle."

- Kate J.
"Without Freelance Cake and working with you, I wouldn't be where I am today. That's a fact."

- Jay Sennett , Holy Gusto Marketing
"By sending one of your emails to an old client, I've gotten more work from them. They've just agreed to a monthly retainer package. Hurray!"

- Lauren T.
"Working with Austin was key for me and my work. By shifting to productized services, I was able to generate $60,000 in new business in five weeks, effectively doubling my rate. That's a big win in my book."

- Robert C.
"I'm literally in the first few months of setting up my freelance business and your advice is priceless."

- Claire S.
"Freelance Cake has helped me set up procedures and systems in my business, which is exactly what I was looking for. You are one of the only people in this freelance coaching space that I trust."

- Kristen B.
"I made at least $20,000 more after taking your advice and raising my rates. Thanks again."

- Stuart J.
"Austin is a weird, wonderful combination of Ben Franklin and Matthew McConaughey—good, solid business sense steeped in the finest Southern chill. I'm leaving this program with a clear, viable plan. I have the confidence that comes with knowing I can provide for myself. Thanks for helping me kick-start my freelance career, Austin. You're the best!"

- Myles McDonough , Brand Strategist & Copywriter
"Austin helped me figure out how I should be spending time and finding new project leads throughout the week. He was key in helping me land one 3-month retainer worth $25,500 and another 12-month retainer worth $165,000."

- Jacob Milner , Finance & Operations Consultant
"Before working with Austin, I charged too little. I had no lead tracking system. A pipeline? Haha. LOL. Starting over using the 6 Ps has already set me up for success. The after picture couldn't be more stark. I've quintupled my old rates! Without Freelance Cake and working with you, I wouldn't be here. That's a fact."

- Jay Sennett , Email Marketing Consultant
"Austin is an incisive thinker. Together, we were able to rework my products and pricing which was instrumental to the growth of my business. By shifting to productized services, I was able to generate $60,000 in new business in five weeks."

- Robert Cross , Business Strategy Consultant
"Austin was the first business coach I worked with (back in 2017), and I can confidently say one meeting with him changed the trajectory of my life."

- Margaret , Designer
"After looking through websites of freelancers and consultants, I sought out Austin specifically. I needed to make the investment to take myself and the business seriously. Austin's material got to the heart of what I was trying to uncover. I have already closed my first project doing exactly what I want to be doing."

- Greg Smith , Process & Growth Consultant
"Business Bootcamp was just the right amount of friendly pressure, just enough to be really effective. I didn't feel overwhelmed. The weekly homework and deadlines felt very doable, yet very intentional. I also appreciated the encouragement and kudos throughout the week. Having people to celebrate my wins with me felt really good."

- Amanda Uher , Content Specialist & Pinterest Expert
"Whoa, Austin, did you make a hell of a thing! I am so glad I signed up. The weekly training and group calls lit a fire under my butt in the best possible way. I love that the feedback focused on what is already working and in really specific ways. That kept me motivated. Bravo, bravo, bravo, you business bard."

- Alex Muck , Writer & Writing Instructor
Do you want to know a secret?
It will seem obvious once you know. If you want to make more money in less time, you can't trade time for money. This short guide will show you the small but important "fixes" that six-figure freelancers make to raise their income without working longer hours.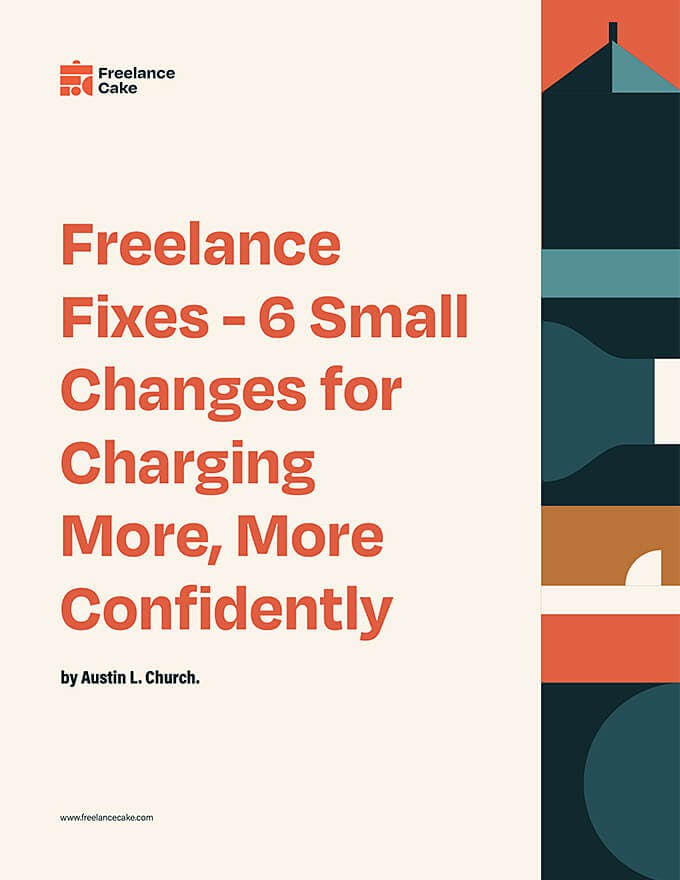 For a limited time, you can get this exclusive training right here.
Get the guide
Better to sign up for free now than to forget and regret it later, right?
Wednesday, Nov. 17, to Thursday, Nov. 18
Live Zoom workshops on Friday, Nov. 19 (All Access Pass only)
"One thing I do know is that making money is not the same as starting a business. For entrepreneurs, this is an important thing to understand. Most of us identify with the products we create or services we provide. I make software. He is a headhunter. She builds computer networks. But the fact is, all of us must master one skill that supersedes the others: making money. You can be the most creative software designer in the world. But if you don't know how to make money, you're never going to have much of a business or a whole lot of autonomy."
Jason Fried, Founder of Basecamp & Hey
How to Get Good at Making Money